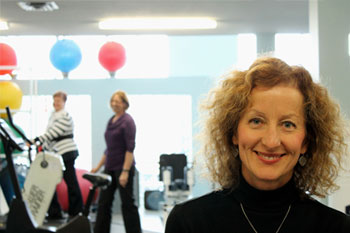 Dale Lyons, PT
B.Sc.P.T., CAFCI, MCPA
Registered Physiotherapist
Acupuncture, Golf Rehab
I have over 20 years of experience in a variety of areas of physiotherapy practice, both in hospitals and private practice. Originally from Saskatoon, I graduated from the University of Saskatchewan in 1989, and received my certificate in Medical Acupuncture from the University of Alberta in 1993.
When I moved to Ontario in 2005 I joined the York Rehab team. I have post-graduate manual therapy and McKenzie training, and have completed the FitForeGolf program training in prevention, diagnosis and treatment of golf-specific injuries. An avid golfer myself, I have a keen interest in golf injury prevention and treatment.
I am also very interested in general fitness training and sports injuries; when not on the golf course you will find me in the gym!