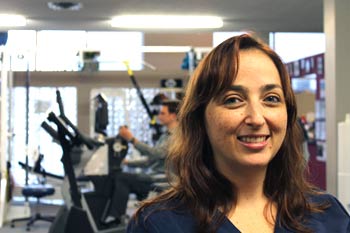 Eliane Antar Crespin, PT
PT
Registered Physiotherapist
Neurological Conditions
I'm originally from Brazil and I graduated with a Bachelor's degree in Physiotherapy in 1997 from the University of the City of Sao Paulo. I completed the Ontario Internationally Educated Physiotherapists Bridging Program in 2010 at Ryerson University and I am currently a member of the CPA – Canadian Physiotherapy Association, the NDTA – Neuro Developmental Treatment Association and the BIG – Bobath Interest Group .
During my first five years of practice, I've worked in hospitals with different clinical settings, including Intensive care and neurological units, acute, outpatients and private care. Since 2003, I've focused my work in neurological rehabilitation.
I've been a certified Bobath therapist since 2003 and I have also taken several post-graduate courses, including PNF – Proprioceptive Neuromuscular Facilitation, GDS – Godelieve Denys-Struyf postural reeducation and movement technique and advanced Bobath and NDT courses.
I'm currently working in the Toronto Rehabilitation Institute (UHN) at University Centre with the Stroke and Acquired Brain Injury population. I am also working at Southlake Regional Care Centre within the inpatient rehab units.
I'm committed to my ongoing educational development and my plan for the near future includes deepening my clinical knowledge of the Bobath and NDT concepts.
I bring to the team a mix of international and Canadian experience which dates back to 1997. I also have a strong desire to make a difference in my community. I'm a passionate and dynamic physiotherapist who strongly believes in the uniqueness of each patient, providing a focused client centered rehabilitation approach.
I have a special interest in dance and martial arts which have always been part of my life. When I'm not working I keep myself very busy with my two boys and husband!