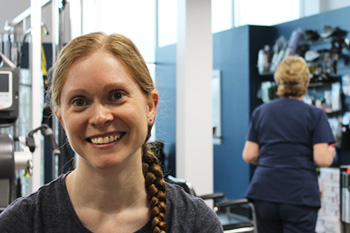 Patricia Loudon, PT
M.Sc. P.T., CDT
Registered Physiotherapist
Neurological Conditions, Lymphedema (CDT)
I completed my Masters Degree in Physical Therapy at the University of Alberta in 2009. The neurosciences fascinated me and I decided to focus on neurological rehabilitation following my graduation. I worked for several years at Toronto Rehab's Lyndhurst Centre and University Centre before coming north to Newmarket.
I am always looking for new techniques to help my patients and am dedicated to ongoing continuing education. I have completed multiple courses in both Bobath and NDT for the treatment of neurological conditions. While searching for ways to effectively manage patient's edema, I discovered Combined Decongestive Therapy (CDT) and have also completed this certification in order to safely and effectively work with patients with lymphedema.
I currently work at both Southlake Regional Health Centre and York Rehab Associates with a focus on patients with neurological conditions. I am dedicated to helping patients maximize both their potential and their independence.
The perfect vacation is visiting Princess Louisa Inlet, BC with my family.