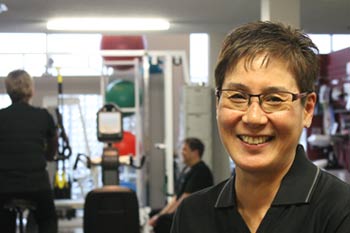 Riki Yamada, PT
PT, Dip. MDT, MCPA
Registered Physiotherapist
As a graduate from the University of Toronto in Physical and Occupational Therapy, I bring a holistic approach to Rehabilitation. Although physical recovery is important, rehabilitation is not complete without optimal recovery of function. I strongly believe that the empowerment of the client through education and partnership is crucial in order to achieve successful outcomes.
With over 30 years of clinical experience, I have a special interest in treating disorders of the spine, post-operative rehabilitation as well as treatment of general orthopaedic conditions. I hold a post-graduate Diploma in Mechanical Diagnosis and Therapy (also known as the McKenzie Approach). As a former International Instructor in this method, I have taught post-graduate courses to physiotherapists throughout North America and Europe. My experience as Manager (retired) of the Rehabilitation Department at Southlake Regional Health Centre as well as the In-patient Rehabilitation Unit and Chronic Diseases Programs has given me special insights into the rehabilitation of clients with complex medical conditions or multi-trauma.
As a life-long learner, I enjoy acquiring new skills such as glassblowing, jewellery making and photography. I love to keep active through hiking and swimming.