We carry multiple product lines that we believe enhance the quality of life for our patients as well as assist in the recovery process from various conditions and injuries. Browse this page for an overview of the products we carry, or feel free to visit our location for a closer look and we can also answer any questions you may have.
Lumbar roll, neck rolls
The original McKenzie neck, back and sleep rolls, scientifically proven to reduce pain and improve sitting and sleeping posture.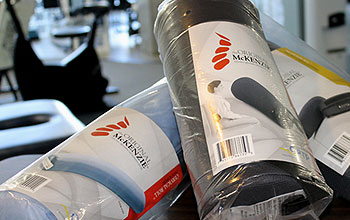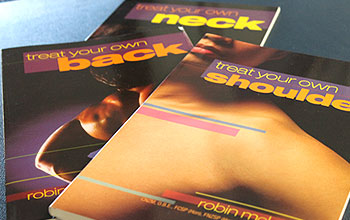 McKenzie self-help books: Treat Your Own Back & Treat Your Own Neck
These books teach you how your spine works and why it hurts, and provide postural advice for day to day care and exercises to relieve your current pain and prevent future pain. Treat Your Own Back has probably helped more people achieve freedom from back pain than any other publication.
Sacroiliac belts
Diane Lee Com-Pressor Sacroiliac belt is a pelvic belt which applies a variable amount of compression to specific locations of the pelvis. The COM-PRESSOR allows customization such that the pelvis can be compressed where it is needed the most. The belt helps to support the pelvis while proper muscle function is being re-established through core stabilization training.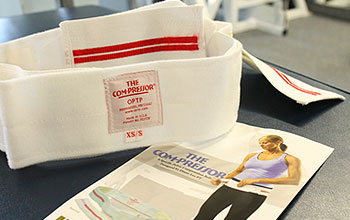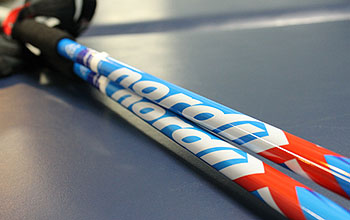 Nordixx walking poles & accessories
Nordic pole walking is a great total-body workout for people of all ages and all activity levels. Although the technique is easy to learn, you gain the most benefit by taking a few lessons with a certified instructor. At York Rehab we endorse the Nordixx brand walking poles, because of the unique design of the hand strap, which allows you to alternately grip and release the pole, thereby improving circulation and relaxation in the upper body.
Exercise elastic (Theraband)
This is the gym you can carry in your pocket. Packaged in 4-foot lengths, available in 5 different resistance levels from very light to very strong. Pair them up with a stability ball for double the workout.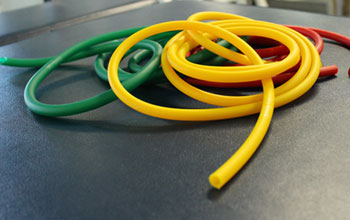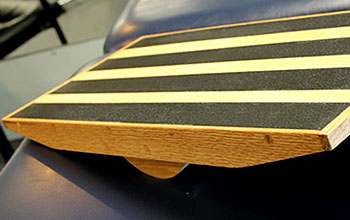 Balance boards
Balance and proprioception are essential exercises after ligament injuries in the knees and ankles. We carry several products to use at home to complement the rehabilitation program.
TheraBand Stability Trainer
The TheraBand Stability Trainer is high-quality tool that helps to ensure an effective and progressive system of balance training. Improve balance, postural stability, proprioception, agility and sports performance. Designed to improve limb positioning, joint stability, reflex action, coordination, and strength and agility – this product is a great tool to attain stability and prevent painful sprains or injuries.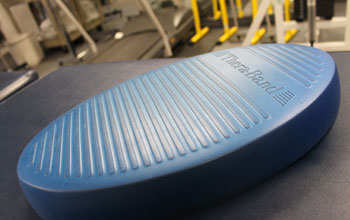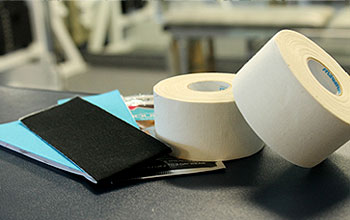 Athletic tape, Kinesiotape
Various types of athletic tape are available, whether for support, protection or proprioception. Includes the popular Kinesiotape used by many Olympic athletes!
Braces: Wrist, Knee & Ankle
We carry a selection of wrist, knee and ankle braces in stock, and can place custom orders for many others. See the section on Bracing, Orthotics and Footwear for custom-fitted products.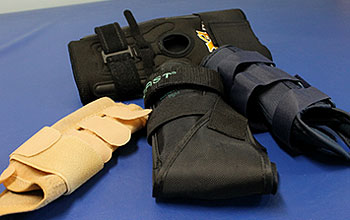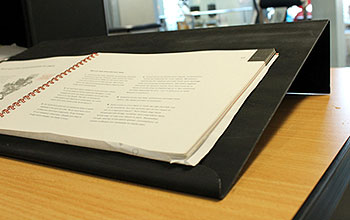 Ergonomic desk toppers
When your neck hurts, working at a desk all day can be torture. Designed by physiotherapists, these desk toppers lift your paperwork up to an angle that is much easier on the neck.
Water-filled pillows
The MediFlow water base pillow has been clinically shown to improve the quality of sleep. By simply adding water, you can adjust the support level to find the one that's right for you. The water conforms to the shape of your head and neck, supporting them rather than pushing them into unnatural positions as some pillows do.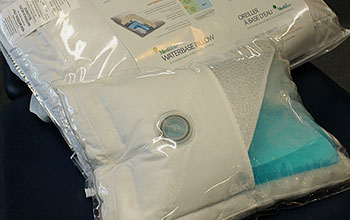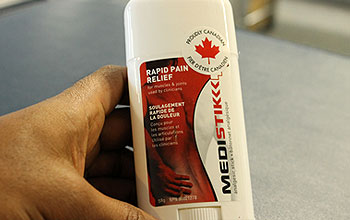 Medistik Topical Analgesic
MedistikTM is a highly effective anti-inflammatory and topical pain reliever. It is ideal for stiff and sore muscles, strains and sprains, and acute and chronic sport related injuries. It is packaged in a stick that is very easy to use and requires no rubbing or hand washing. Extremely effective and convenient!
Apex Orthopaedic Shoes
Apex, maker of shoes recommended for those who have bunions, arthritis, diabetic feet, or who need shock absorption, breathability, removable insoles, high/wide toe box, adjustability, stability, X-wide widths. Your feet are not supposed to hurt – if yours do, you've found the right spot. From casual to dress, you'll your shoe at York Rehab.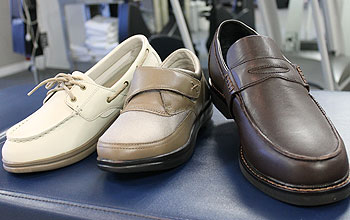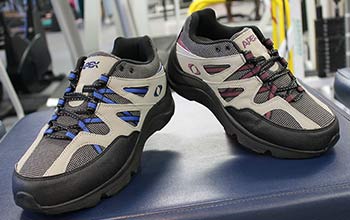 Trail Runner
Apex Sierra Trail Runner features high-tech, breathable uppers with mesh linings to keep feet cool and dry. Features include: V last for superior stability / 2 removable layers for fitting flexibility / Multi-density midsole with supporting EGX footbridge / Medial support pod minimizes over-pronation / SmartMask™ toe guard and external heel counter / Nylon Cordura™ uppers with nubuck leather / Scotchguard™ protection for water resistance. Visit the clinic to try on a pair.
Orthopaedic Active Footwear
Apex athletic footwear features lightweight breathable knit upper, padded tongue & collar, and EVA midsole. These shoes are built with the most advanced technological features that represent the highest standards in fit-manufacturing, comfort and performance. Also appearing is the Ariya hiking boot which includes removable layers for fitting flexibility and to accommodate orthotics.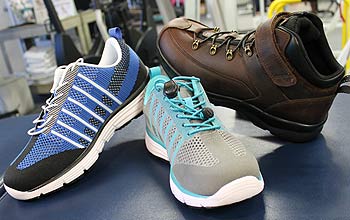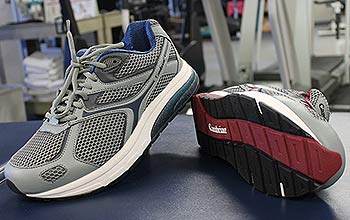 A Complete Orthopaedic Trainer
Genesis, the complete orthopaedic trainer by Cambrian. Specifically designed for unsurpassed comfort, stability and support. It's the perfect shoe for most therapeutic applications as well as everyday runnng/walking. Loaded with features like "Extra-depth" and roomy forefoot with accommodative stretch-able panels, 3 widths built on proper TrueGrade lasts for precision fitting options and fully padded collar and deep heel pocket for a secure and comfy rearfoot fill…and that's just the start.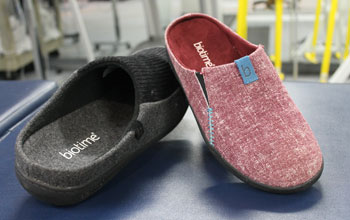 Biotime Jessie & Ernie Slippers
(Orthotic-friendly)
The "Jessie" & "Ernie" Slippers are designed with a removable insole which allows for even the most bulky orthotics to fit. The canvas printed suede upper is both an indoor and outdoor slipper with micro suede lining. It features a lightweight and durable rubber compound unit outer-sole.
Diabetic-appropriate Simcan Socks
We stock the complete sizing of the "comfort sock" in black, sand and white. Available is low rise, standard height and calf length.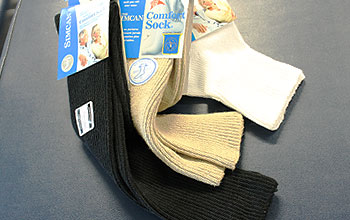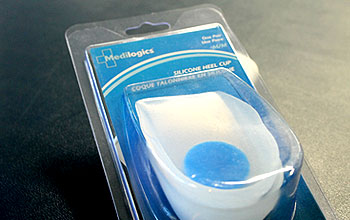 Heel Cups
Manufactured from 1/4″ medical grade silicone. They are ideal for heel pain associated with injury or deterioration of the padding under the heels.
Toe Spacers/Supports/Shields
Manufactured from medical grade silicone. Devices designed to separate or protect the toes.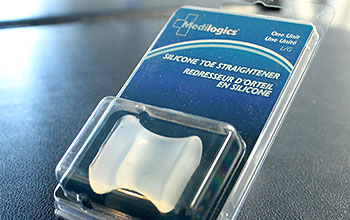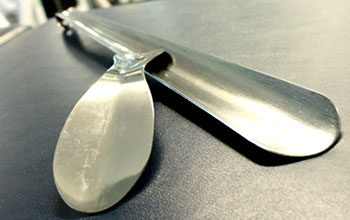 Shoehorns
Long handled shoe horns make the task of donning shoes so much easier – especially for people who cannot or should not bend over far.
IceTraxx
Add these to winter boots for added traction on ice and snow – prevents falls, promotes fitness.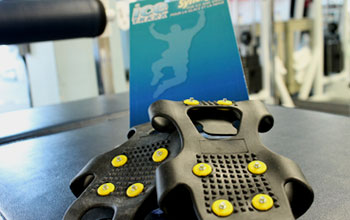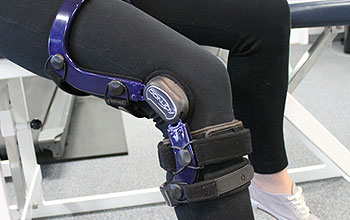 Custom Bracing and Orthotics
Our clinic is equipped with the expertise to fit you for custom bracing. Contact our clinic for an appointment with one of our custom bracing specialists.
UriSec 22%
UriSec 22 provides superior moisturizing for dry skin conditions. Typical creams offer only short term relief, sometimes leaving your skin drier than before. If you're looking for a cream specially formulated to put the moisture back into dry skin and keep it there then try UriSec 22%. It provides protection against harsh environmental conditions in the winter and summer.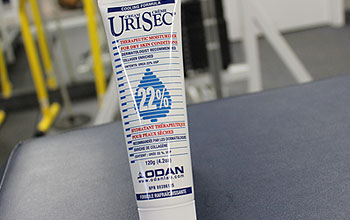 Clean Sweep Antimicrobial Shoe ShieldClean Sweep is a clear, flexible antimicrobial micro-coating fortified with pure nanosilver formulated to inhibit the growth of odor and stain-causing bacteria, fungus, and mold. Clean Sweep can be used as a natural way to treat footwear, orthotics, walker braces & boots, cam walkers, air casts, and other therapeutic items that need deodorizing. Treatment lasts 4-6 months.
Toe Alignment Splints
The DARCO TAS-Toe Alignment Splint is a cost-effective solution that provides superior postoperative toe alignment after Hallux Valgus, Hammer Toe and Tailor's Bunion procedures. The GTS – Great Toe Splint is an adjustable, postoperative splint. Indicated for relief of symptoms associated with hallux valgus and other great toe joint conditions.