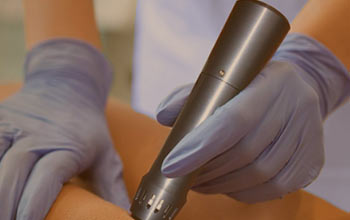 We offer Shockwave therapy at our Newmarket Physiotherapy Clinic. Shockwave therapy is a non-invasive treatment used by our physiotherapists and chiropodist to aid in the treatment of chronic pain conditions. Shockwave is used to stimulate the healing process in chronic conditions.
Shockwave therapy works through the application of pulsed energy to the affected area which causes an inflammatory reaction. The inflammation causes the body to increase blood flow and other components to the area of pain to encourage healing and repair.
How is shockwave treatment applied?
The hand piece contacts the skin. The shockwaves spread radially out into the tissue with a penetration depth of up to 35mm. The treatment time and pain experience depends on the area being treating. The therapist does have some control over the intensity.
Treatment takes place over the course of multiple visits to our Newmarket physiotherapy clinic. The duration of shockwave sessions, as well as the number of visits, depends both on the patient and the type of injury. Some examples of indications where shockwave therapy treatment may help include:
Shoulder problems such as calcific tendonitis of the shoulder
Chronic patellar tendonitis
Jumper's knee
Heel spurs
Plantar fasciitis
Myofascial trigger point treatment of the neck, back or muscular back pain
Trochanteric Bursitis
Shin splints
Shockwave therapy should not be used, with the following conditions:
Vascular diseases that exist in or near the area of treatment.
Infections in the treatment area.
Around malignant or benign tumors.
Directly on cartilage surfaces or near the small facet joints of the spinal column.
Directly over implanted electronic devices such as pacemakers, analgesic pumps, etc.
In areas in which mechanical energy in the form of vibrations may lead to tissue damage such as metal implants after a fracture.
Generally speaking shockwave therapy consists of short sessions, the success rate is high when patients adhere to the treatment protocol. It can replace the need for surgery or medications. One thing to note is that this type of focused treatment does require expertise and should only be applied by a trained medical specialist such as a doctor, therapist or regulated health care providers.
If you'd like to book an appointment you can contact our Newmarket physiotherapy clinic and schedule a visit.