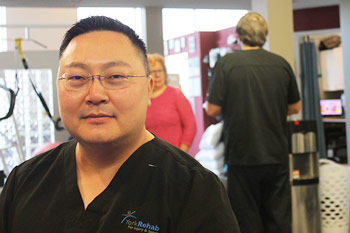 Bob Lyeo, PT
B.Sc.P.T., Dip. Manip.PT, FCAMPT, MCPA
Registered Physiotherapist
Diploma Manipulative Physiotherapy
I am a graduate of the University of Toronto, having successfully completed a Bachelor of Science Degree in Psychology and Human Biology in 1995 and a Bachelor of Science Degree in Physiotherapy in 1999. After graduation, I went on to further develop my knowledge with post-graduate courses in the McKenzie approach, Sahrmann muscle balance courses, acupuncture through the Acupuncture Foundation of Canada (AFCI), K-Taping, and numerous courses through the Orthopedic Division of the Canadian Physiotherapy Association, of which I am a member.
I successfully completed the Advanced Orthopedic and Manipulative Physiotherapy Examination and received my Diploma of Advanced Orthopedic Manual and Manipulative Physiotherapy from the Canadian Physiotherapy Association in 2012. I am currently a Fellow of the Canadian Academy of Manipulate Physiotherapy (FCAMPT).
I have 14 years of clinical experience in private practice, with a focus on the outpatient orthopedic setting. I believe that a professional, active and client-centered approach is the best route to achieving optimal outcomes in rehabilitation. To this end, I incorporate a wide range of techniques including spinal manipulation, specific exercise instruction, athletic taping, soft tissue mobilization and acupuncture. I believe that education provides a solid foundation for recovery and I value individual one-on-one time with my patients. Happiness is a fine dining experience and a fast bike!