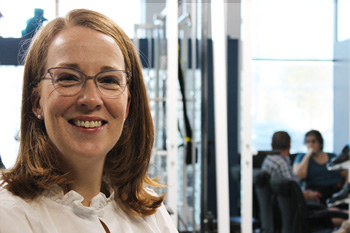 Fiona MacKenzie, PT
PT. Dip. MDT
Registered Physiotherapist
Next to food (and all things chocolate) my love is orthopaedics. The experience I bring to the team, I've been developing since 2004, while holding a Bachelor of Science in Human Kinetics and a Master of Science in Physiotherapy.
I have been on staff at Southlake Regional Health Center since 2006, where I was the recipient of the Pat Norman Patient Centered Care Award in 2009 and the Volunteer Trainer Award in 2016. I joined the physiotherapy team at York Rehab Associates in 2011.
In 2012, I became a certified McKenzie Practitioner. Keen to learn and always up for a challenge, I made it my goal to pursue the highest level of achievement within the McKenzie Method. In 2014, I began the Diploma Program in Mechanical Diagnosis and Therapy (MDT). The 10-week theoretical component was conducted through the University of Dundee in Scotland. The 9-week clinical component involved travel to St. David's Hospital in Austin, Texas. Throughout this learning process, I have had the opportunity to work with some of the brightest clinical educators within the McKenzie Institute. In 2015, I was successful in contesting the final exam for the Diploma in MDT. I am now one of the newest members of a selection of world-class experts in the McKenzie Method, dedicated to providing the best patient outcomes.
In my free time, I am active with basketball and running. I also participate in regular speaking engagements organized through The Running Room.