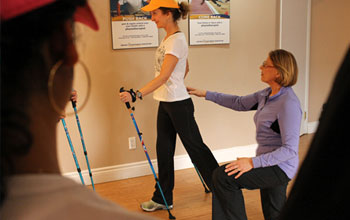 NORDIXX – NORDIC POLE WALKING
Nordic pole walking is a great total-body workout for people of all ages and all activity levels. Although the technique is easy to learn, you gain the most benefit by taking a few lessons with a certified instructor. At York Rehab we endorse the Nordixx brand walking poles, because of the unique design of the hand strap, which allows you to alternately grip and release the pole, thereby improving circulation and relaxation in the upper body.
Nordic pole walking can be done on sidewalks and trails, cross-country or on snow – even with skis or snowshoes. Join a group, a fund-raising team, take a buddy or walk solo – this is a flexible sport for everybody and anytime.
WHY POLE-WALKING? Nordic pole walking has many advantages over regular walking, including:
Uses 90% of all muscles in the body
Burns up to 46% more calories per hour than walking
Increases cardiovascular exercise
Reduces pressure on hips, knees and feet
Strengthens and tones the arms and core muscles
Promotes upright posture
Improves neck and back pain
Helps regulate blood sugar
Poles assist with balance
WHO BENEFITS? Everyone can benefit from the exercise of Nordic pole walking. Some examples:
Competitive cross-country skiers use Nordic pole walking for off-season training
Hikers & backpackers use poles for added stability and weight-distribution
Seniors can use Nordic poles for a safer yet more effective workout
People with sore knees, hips or feet can walk farther with less pain
After lower extremity injury or surgery – start walking exercise sooner and go farther
Parkinson's – helps with mobility by encouraging rhythmic, total body movement
Fitness walkers use poles for higher level cardiovascular workout and faster calorie burn
BENEFITS OF NORDIXX BRAND NORDIC POLES
Hand strap allows the upper extremity to alternately contract/relax, improving circulation and preventing repetitive strain
Strong, lightweight, quality product
Adjustable length to fit anyone
Rubber feet for sidewalks; metal spikes for trails; snow baskets for winter
"Traveler" model collapses for packing in luggage