Yoga can be intimidating because there's a misguided notion that you need an advanced level of strength and flexibility. And although possessing an advanced level of each will make a yoga session easier, a great workout is always achieved because yoga pushes your own limits no matter what your capability. Our Newmarket physiotherapy clinic has a Fitness Studio where we've been hosting yoga classes for several years. We think yoga is wonderful for your health, wellness, recovery and spirit. Yoga really is magical. From time to time we host a Chair Yoga session in order to encourage people to come out and experience Yoga – we feel if you try it once, you'll be hooked.
So why the chair? Here are some benefits of Chair Yoga:
Balance & Support. We want to reduce the intimidation factor in order to get someone to come and experience yoga first hand. The chair adds an element to a person's confidence knowing that it can be used as a prop to aid with balance and support. Poses that require a one-legged stance are much easier when you have something to hold on to and it allows you to develop competency in the particular position until you are comfortable enough to let go.
Building Strength & Stamina. Many are fooled into thinking that yoga is easy, it's just a bunch of easy poses while you are sitting or lying down. And while sitting and lying are definitely part of the practice, the deliberate and controlled movement that is required from each pose will often engage muscles not normally used making yoga a great workout. This results in developing greater strength, stamina, flexibility, and balance. And this happens regardless of how good you are at yoga – as long as you challenge YOUR limits you will experience results.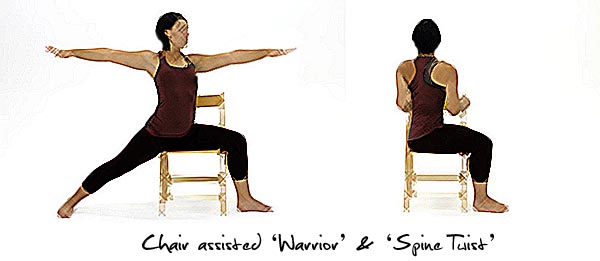 A chair to assist with something like a "spine twist" or a "warrior pose" can safely get you into slightly more challenging poses sooner allowing you to reap the rewards quicker.
Get into Activity Sooner. When recovering from an injury, especially if the injured area is in your lower body, mobility (and confidence) may be limited. A chair provides the support that allows you to begin introducing exercise/activity back into your life. The opportunity to sit while engaging in activity can reduce any discomfort you might feel while standing if you are recovering from an injury.
If you'd like to know when the Fitness Studio at our Newmarket physiotherapy clinic will hold its next chair yoga session give us a call – 289.796.1155.